Skip Navigation
Website Accessibility
The People Behind the Steeple!
Saving our beloved family church, and creating the Quilted Steeple

We were heartbroken when the United Methodist Conference closed our little country church. Our family had worshipped there for generations, with our father on the Board of Directors and our mother playing the organ nearly every Sunday for 62 years! Julie and Susan taught Sunday school, brother Scott took collection, and we all helped keep up the grounds. We wanted it to remain a vital part of the community and so we bought it and, with the help of family and friends, made it into a very special crafting retreat.
Good Hope Church, as built-in 1897
Susan & Her Daughters Pitching In!
Julie Playing Foreman
It was a big job! The church itself was in pretty good shape. We added a couple of bedrooms, and another bath, and installed a commercial kitchen with a handicap ramp.
The parsonage, however, was a different story, requiring complete remodeling.
The parsonage was stripped and gutted to make room for three new baths, a new kitchen, five bedrooms, and full handicapped access
And then there was The Steeple...

The Steeple looking pretty rough after 120 years

One of the biggest challenges was the old steeple, which had begun to rot. How does one go about restoring a complex old wooden structure, originally built by craftsmen the likes of whom have long since disappeared? Teamwork! And a lot of patience.



First, Brother Scott tore off the old shingles and rebuilt the rotting structure beneath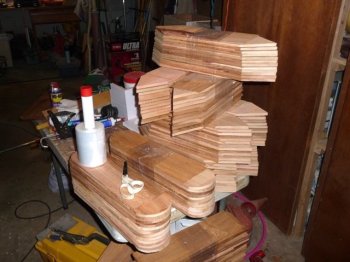 ...while brother in law Jim hand cut more than 600 cedar shakes.
It took a team of professions two days to install them and...
Ta da!